Energy Saving Tips & Tools - Increase your Energy IQ
Save Energy and Money Today
Did you know that the typical Michigan family spends about $1,900 a year on home utility bills? Unfortunately, a large portion of that energy is wasted. And each year, electricity generated by fossil fuels for a single home puts more carbon dioxide into the air than two average cars. And as for the road, transportation accounts for 67% of all U.S. oil consumption.
The good news is that there is a lot you can do to save energy and money at home and in your car. Start making small changes today (see menu below).

»» Low-cost and no-cost ways to save energy
»» Good Investment Recommendations
»» Energy Star @ Home
»» Energy Star Home Energy Yardstick
»» Energy Star Home Energy Advisor


Low-cost and no-cost ways to save energy
Tips to Save Energy Today
Replace Light Bulbs: Replace standard incandescent light bulbs with compact fluorescent light bulbs (CFLs) and save 75% off lighting costs.
Unplug Electronics: Unplug electronics, battery chargers and other equipment when not in use. Taken together, these small items can use as much power as your refrigerator.
Save Water: Installing faucet aerators and low-flow shower heads will cut water heating costs by 50% and save up to $300 per year. It will also cut water use by up to 50%.
Adjust Your Thermostat: Setting your air conditioner 5 degrees higher will save up to 20% on cooling costs.
Buy Energy Efficient Appliances: Always buy ENERGY STAR qualified appliances and equipment - they're up to 40% more efficient. Find rebates and incentives in your area using our rebate finder.

Adjust Your Water Heater: Turn your water heater down to 120° or the "Normal" setting when home, and to the lowest setting when away. Water heating accounts for about 13% of home energy costs.
Keep Cool With Ceiling Fans: Reduce air conditioning costs by using fans, keeping windows and doors shut and closing shades during the day. Most ceiling fans use less energy than a light bulb.
Be Smart About Lighting: Turn off unnecessary lighting and use task or desktop lamps with CFLs instead of overhead lights.
Power Down Your Computer: Enable "power management" on all computers and make sure to turn them off at night. A laptop computer uses up to 90% less energy than bigger desktop models.
Wash Clothes in Cold Water: When possible, wash clothes in cold water. About 90% of the energy used in a clothes washer goes to water heating.
Load Up Your Dishwasher: Run your dishwasher and clothes washer only when fully loaded. Fewer loads reduce energy and water use.
Maintain Your Clothes Dryer: Make sure your dryer's outside vent is clear and clean the lint filter after every load. When shopping for a new dryer look for one with a moisture sensor that automatically shuts off when clothes are dry.
Find and Seal Leaks: Sealing cracks, gaps, leaks and adding insulation can save up to 20% on home heating and cooling costs. Test for air leaks by holding a lit incense stick next to windows, doors, electrical boxes, plumbing fixtures, electrical outlets, ceiling fixtures, attic hatches and other locations where there is a possible air path to the outside. If the smoke stream travels horizontally, you have located an air leak that may need caulking, sealing or weather stripping.
Back to Top
Good Investment Recommendations
Many of the following Recommendations qualify for Federal and State Tax Credits and may also qualify for Cash Rebates from the local utility companies.
Wendy Reed explains the importance of a Programmable Thermostat.
Brought to you by Energy Star® (4:51)
Programmable Thermostat: Install an ENERGY STAR qualified programmable thermostat – It can save up to $100 per year in coastal areas and over $150 inland and pays for itself in less than 12 months. Make sure to install it away from natural cool and hot spots.
Seal Your Ducts: Have your heating and cooling ducts professionally sealed to save up to $120 in coastal areas and up to $190 inland per year.
Seal Your Home: Seal your home's envelope – walls, floor, ceiling and roof – to save up to 10% on your annual energy bill:



Add weather stripping around windows and doors to reduce drafts.
Use caulking to seal around ducts, plumbing and any other openings in walls, floors and ceilings to reduce air leakage. Begin in the attic, a common place for warm air to escape.
Seal larger gaps that cannot be covered with caulk or with expanding foam.

Insulate, Insulate, Insulate: After air sealing, determine the current level of insulation. In the attic, measure the depth of existing insulation using a ruler. If there is less than R-22 (7 inches of fiber glass or rock wool or 6 inches of cellulose) you could probably benefit by adding more. Most Michigan homes should have between R-49 and R-60 insulation in the attic. Insulating ceilings, walls, attics, floors, crawl spaces and basements to recommended standards can reduce heating and cooling costs by 5% to 50%.
Upgrade Your Heating System: Replace heating equipment more than 15 years old with new ENERGY STAR qualified models. Equipment must be sized and installed properly. Old furnaces cost more to operate per year than new, ENERGY STAR qualified models that are 15% more efficient than standard models. An ENERGY STAR qualified electric heat pump is 20% more efficient and can save you about $130 annually. An ENERGY STAR qualified boiler uses features like electric ignition and new combustion technologies that extract more heat from the same amount of fuel, to be 10% more efficient than a new, standard model.
Maintain Your Cooling System: Have your air conditioning unit serviced to cut 15% of cooling costs.
Windows: Install high efficiency windows, which are 40% more efficient than standard windows. Consider replacing single-pane windows with double-pane windows that are gas-filled with high performance glass (e.g., low emissivity or "low-e" glass). ENERGY STAR qualified windows may help reduce your heating and cooling costs by up to 15%. The windows must be sized and installed properly.
Back to Top
Energy Star @ Home
Cool Your World ENERGY STAR
EPA's Energy Star launched a new interactive online tool for improving energy efficiency at home. You can click on each room in the house to get specific tips on how to be smarter about the energy you use.

It's a user-friendly, concise, useful tool that helps you make your own decisions about where a little efficiency can go a long way, such as sealing windows and setting your thermostat to a lower temperature. As summer approaches and energy demands escalate, this is an easy way to save some money and spare the planet by making a few choices at home.

Take a room-by-room tour of ENERGY STAR @ home and learn what you can do this spring to save energy, save money and help protect our environment in your own home.


Back to Top
Energy Star® Home Energy Yardstick
What's Your Score?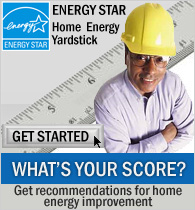 What you need to know to get started:
Your energy use and costs for the last year: You'll need your last 12 months of utility bills OR a 12-month summary statement from your utility company.
Energy sources for your home: natural gas, electricity, fuel oil, propane and/or kerosene?
The square footage of your home.
Back to Top
ENERGY STAR® Home Energy Advisor
Get the trusted advice you need to improve your home today

The ENERGY STAR Home Advisor can provide you with recommended home improvement projects to increase energy efficiency and comfort in the area where you live.
Back to Top
Insulation Experts
Visit our Insulation website for more in depth information
Without proper air sealing, a building can lose a great deal of its efficiency through air leakage. It's one of the primary causes of hot and cold spots that can cause discomfort for owners. But as with any building product, insulation is only as effective as its installation and where it's applied. Spray foam is only installed by qualified contractors. That's why builders are choosing Spray foam to insulate their homes.

Stop by and learn all about the Science of Building Performance at ComfortToLife.com